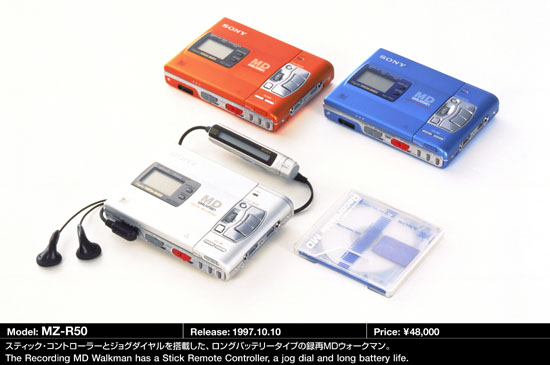 Date Released In Japan: October 1997
Retail Price: ¥48,000
Specs:
MDLP: No
Colors: Red, Blue, Silver
Projection Area: 109.5 x 77mm
Thickness: 19.7mm
Weight: 190g
Weight w/ Battery: 240g
Features: ATRAC 4 (IC: CXD2652AR) Approximately 70% the volume of the MZ-R30, 16Mbit DRAM provides 40 seconds of shock proof memory. Syncho-start recording for digital input signals. New "stick controller" type remote with normal stereo mini-jack for headphones. Stick controller provides all the functions of the MZ-R30 remote plus control of play mode and display mode. Scrolling display on remote shows time elapsed (not time remaining), track title, MD title and time recorded (not date recorded). Remainder of display on remote shows the track number (alternating with total tracks on the MD), a little flashing disk icon, play mode, battery level, and REC for when you are recording. Digital bass boost, position pointer, date and time stamp recording. Selectable microphone sensitivity (HIGH/LOW). Repeat modes: all repeat, 1 repeat, shuffle. AA cells are used with included external drycell case. Available in blue, orange and silver. Optional car mount kit: CPM-MZ6VK (includes mounting plate that attaches to screw hole at rear of MZ-R50, the mounting plate then snaps in and out of a base mount that one attaches to car interior with included velcro strap). Line outut rating: 194mV, 10Kohms. Considered by many to be the pinnacle of Sony's Minidisc development in terms of ruggedness and usability [except for the presence of END-SEARCH].
Recharge Time: 3 hrs

| | |
| --- | --- |
| Recording Time: | SP |
| Rechargeable LiIon LIP-8 | 4 hrs |
| AA x2 | 5 hrs |
| Rechargeable LiIon LIP-8 + AA x2 | 12 hrs |
| Playback Time: | SP |
| Rechargeable LiIon LIP-8 | 7 hrs |
| AA x2 | 12 hrs |
| Rechargeable LiIon LIP-8 + AA x2 | 22 hrs |