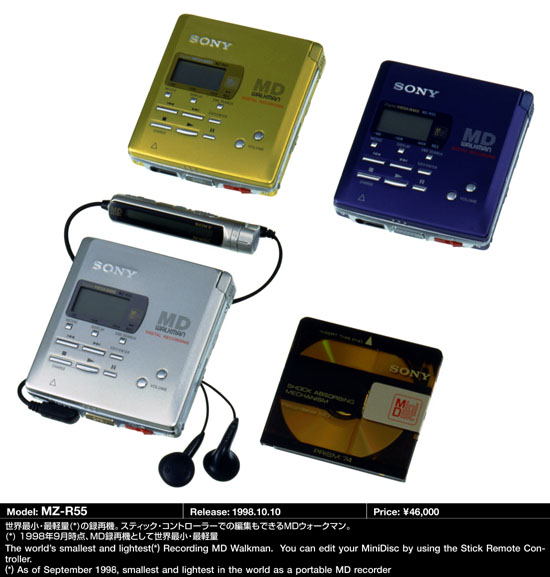 Date Released In Japan: October 1998
Retail Price: ¥46,000
Specs:
MDLP: No
Colors: Gold, Silver, Blue
Projection Area: 78.9 X 84 mm
Thickness: 18 mm
Weight: 147g
Weight w/ Battery & Disc: 190g
Features: ATRAC 4 (IC: CXD2652AR). Unit is small, 75% the volume of the MZ-R50. 40 sec shock memory, backlit remote "stick controller" with 9 character display (vs. 6 in previous versions). Operation, editing and track labelling functions available on remote as well as main body. Titling may be done while recording is in progress. Clamshell opens via pushbutton (rather than slider). Two step bass boost. Selectable microphone sensitivity (HIGH/LOW). First recorder with 1.2V drive. Uses NiMH gumpack rechargeable (NH-14WM).
Battery Recharging Time: 3 hrs

| | |
| --- | --- |
| Recording: | SP |
| Rechargeable NiMH NH-14WM | 2.5 hrs |
| AA x2 | 5 hrs |
| Rech NiMH NH-14WM + AA | 9.5 hrs |
| Playback: | SP |
| Rechargeable NiMH NH-14WM | 4 hrs |
| AA x2 | 10 hrs |
| Rech NiMH NH-14WM + AA x2 | 16 hrs |